Page 1 - Overview of Building a Kart
Page 2 - Materials for Go Karts
Page 3 - Go Kart Frame
Page 4 - Go Kart Seat
Page 5 - Go Kart Steering Overview
Page 6 - Go Kart Spindles, Axles
Page 7 - Go Kart Engines, Exhaust
Page 8 - Go Kart Throttle, Brakes
Page 9 - Go Kart Clutch, Sprocket
Page 10 - Go Kart Parts Sources
Page 11 - Our New Site
Hooking up your go kart brakes and throttle is one of the final steps.
Brakes
The plans at right use dual rear brakes, but only one is generally needed for most uses.
click diagrams for
larger images
Main
Detail "A"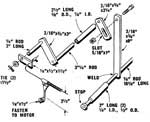 Detail "B"

Detail "C"
There are many types of brakes that you can run on your kart.
Scrub brakes are metal "paddles" that rub against the wheel causing friction and slowing the kart. We don't recommend them — they are hard on the tires and have poor performance.
A step up is a band brake, which squeezes a brake band around the outside of a metal brake drum. They aren't high-performance, but work well. The photo at top shows a drive assembly with band brake.
A expanding drum brake uses a sprocket with integral brake drum. The brake expands its shoes inside the drum. They work well and keep more oil and water away from the brake than the band.
Some people now run disc brakes on their karts, which were unavailable until recently. Though we don't have any experience with them, they're likely the "best of the best" as far as braking solutions go.
In any case, you absolutely have to get to know your machine, just like you have to know your car. When driving in new conditions, exercise caution until you know how the kart will handle.
Check go kart brake prices at Northern Tools.
Throttle
The exact method to attach the throttle cable to the engine depends on your engine type and style, but running the cables to the rear is standard. If you have a long enough cable, you can run it directly to the engine. Alternatively a throttle rod may be used as in the figures, and cable running from there.
All cable is not the same, and most will rust. Lubricate the cable as needed and keep it out of the rain.
Check prices on throttle parts at Northern Tools.